Field Trip Report: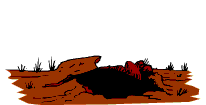 Bessemer City Quarry
Bessemer City, NC
December 12th, 2009
Official Field Trip of the Gaston County
Gem and Mineral Club
photos by Richard Jacquot
We had a great time at the Bessemer City Quarry with the Gaston County Club this weekend. Kay Jones made arrangements for the club to access the site which had been off limits for the past several years, thanks Kay! I am a Gaston club member and I brought along a few MAGMA members to collect at the site.
In the 1990's I visited this site several times and always found great material, it has not changed. The site hosts many minerals and micro minerals for collectors.
Above, some of the locals.
Mine foreman Ken with a huge beryl crystal he found at the mine.
Below are pictures of a beryl crystal and spodumene crystals in matrix found by Ken.
It was Doug's birthday, 39 again!
Kay and Shirley found some nice apatite and pyrite in matrix.
John D. working the dumps.
Beryl piece found by Gaston member Diane.
Doug and Tommy found some huge boulders loaded with tourmaline crystals.
They also found this material, white botryoidal carbonate-hydroxl apatite. Identified by Laurie Adams.
Some of the best gem crystals I saw collected were these apatite crystals found by Diane.

Back to field trip menu