Field Trip Report: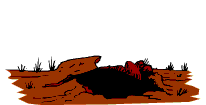 Gray Fossil Site
Natural History Museum
Gray, Tennessee
January 31st, 2009
We had a fun day visiting the Natural History Museum, Gray Fossil Site in Gray, Tennessee. This was only the second MAGMA trip I can remember where we were not digging or cleaning a mine site. The first trip we made that did not involve digging was to visit Luther Thomas and view his collection back in 2001.
We arrived at the museum around 10:30 and waited for the other members to arrive so we could begin our tour.
Following are a few of the exhibits showing some of the specimens found at the site.


Saber Cat Skeleton found at the site.



Back to field trip menu