1st Annual Rockhound
Roundup, July 30, 31, August 1st, 2004,
Three days of fun and fellowship in the
Western North Carolina mountains.
I'm finally getting around to a report after a fun three days. First I want to thank everyone who attended the roundup to make it a huge success. We had rockhounds from all over the country, Hawaii, North Carolina, South Carolina, Florida, New York, Georgia, Alabama, Pennsylvania, Virginia, and more. I have a lot of pics to post and I will be adding more pics to this report later as I receive them. As I'm writing this, it is pouring the rain outside and has been for over two hours. I'm glad this weather waited until today and did not ruin our weekend. All we got was an evening shower that lasted about a half hour, the rock gods were smiling on us this weekend! The event started Thursday evening as campers began to arrive for Fridays trip to the Little Pine Mine. We had a good turnout for the first day trip.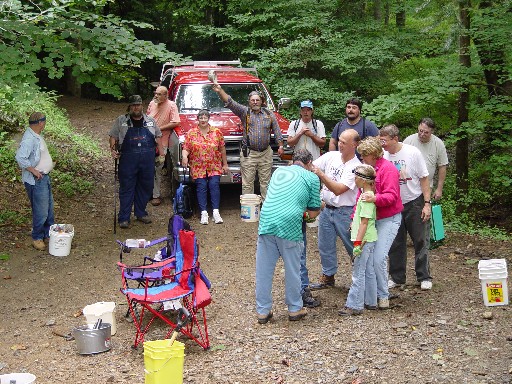 Getting ready for a day of collecting.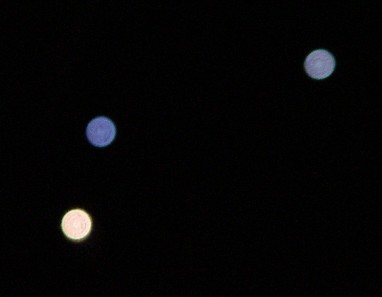 This is not a pic of planets, it's three diggers in the mine collecting.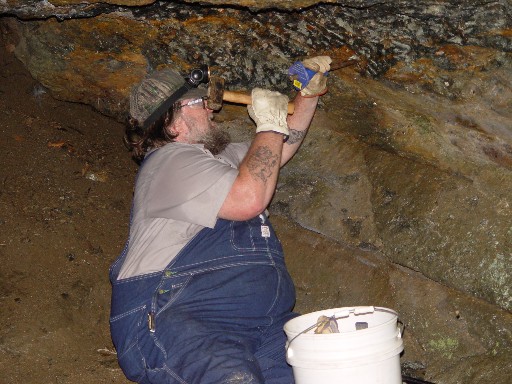 Wolfy hard at it !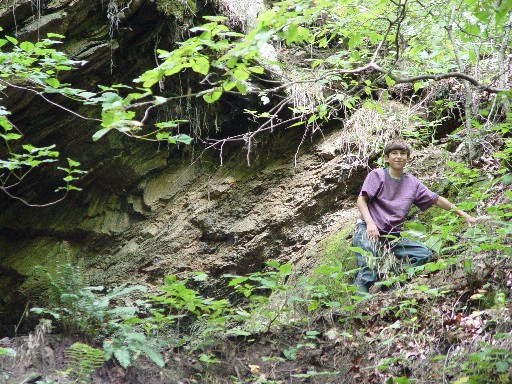 Scott Fleming on top of the mine.
Everyone had a blast at the mine. It had flooded in Madison County the day before and many crystals were found washed up in the creek. Around two o'clock it rained hard for about a half hour and again washed more material from the creek.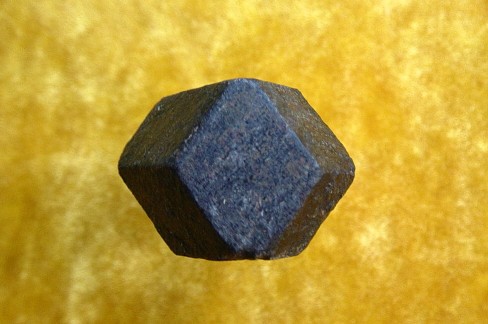 Above, Scott and his finds, below, Scott's nice crystal.
We finished off the day of collecting. The campers returned to base camp and the others returned to their hotels. We sat around base camp talking and trading rocks the rest of the evening as other rockhounds continued to arrive.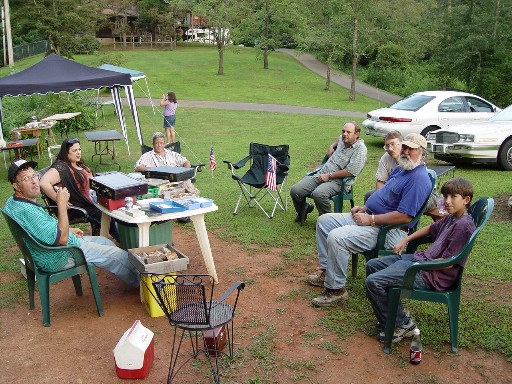 Friday evening rock talk!
Bruce, Maitri, Scott, Rockpup, Steve, Casey, Lee and Scott Fleming
Saturday morning many more hounds began to arrive for the days adventures. Lee Fleming led the collecting group to collect at local mines and I led the rest to the Grassy Creek show in Spruce Pine.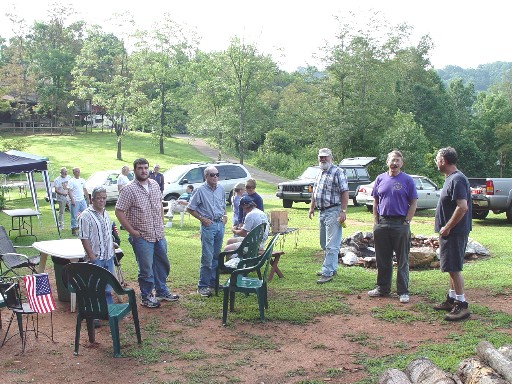 Getting ready Saturday morning.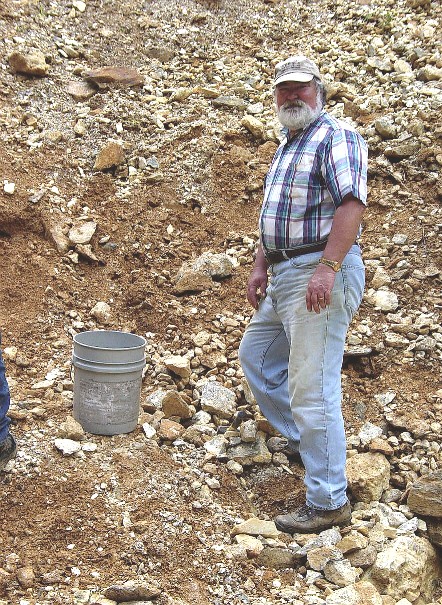 Lee at the Sinkhole Mine.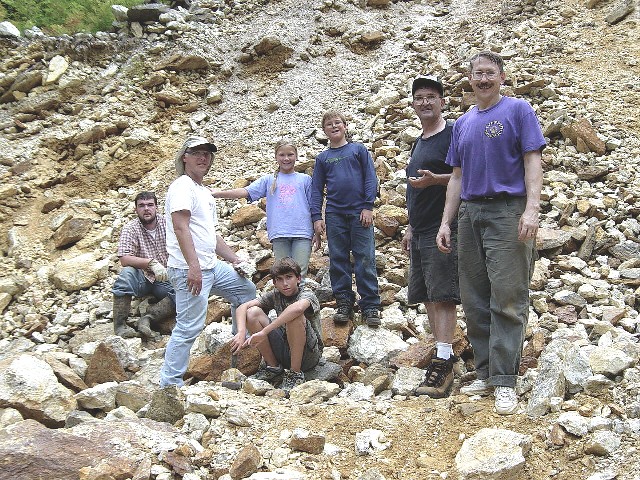 Chris Moss, Don and his kids, Scott Fleming, Bruce, and Casey at the Sinkhole Mine.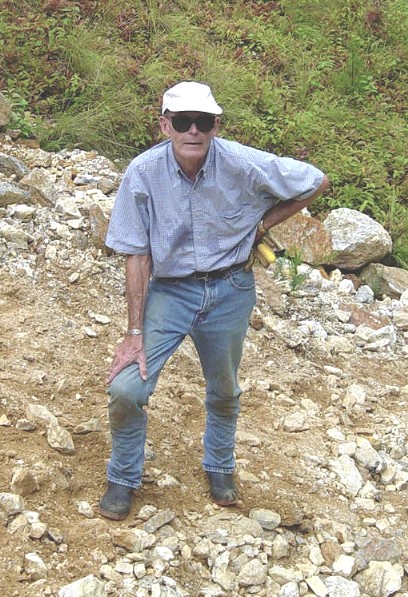 John Deney at the Sinkhole.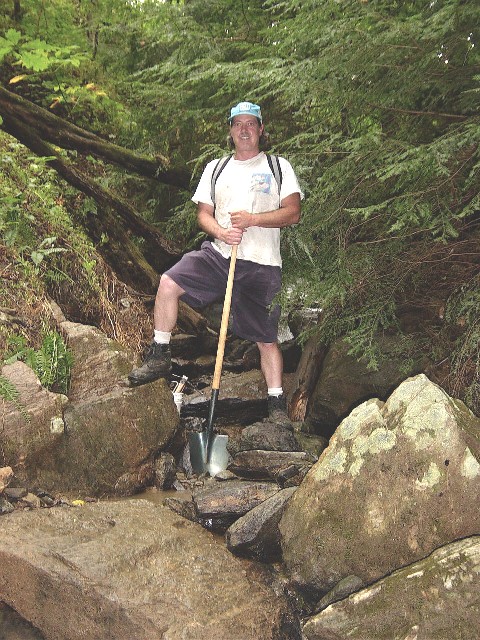 Brian Taylor ready to rock hunt.
Charlie and Greg Padgett selling their Graves Mountain material at the show.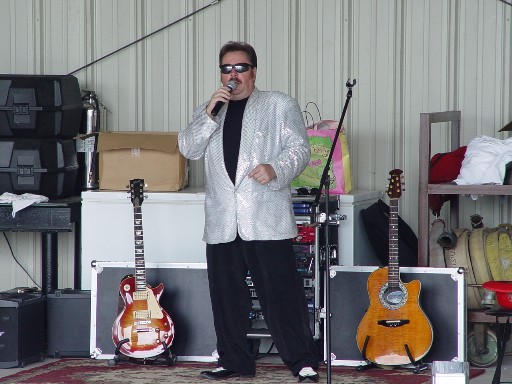 I got to see Elvis while I was at the show.
Here are a few pics of some of the attendees: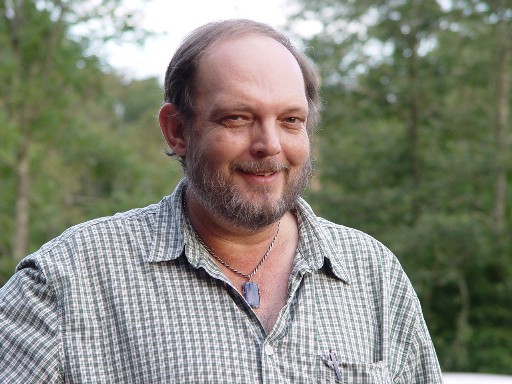 Steve Penley.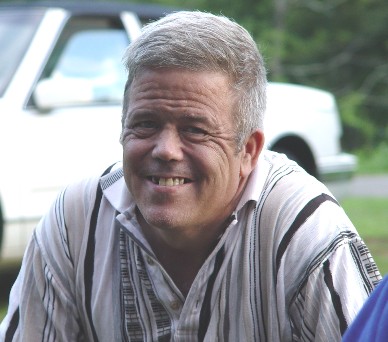 Scott.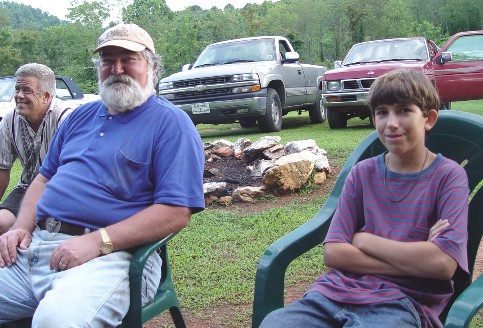 Lee and Scott Fleming.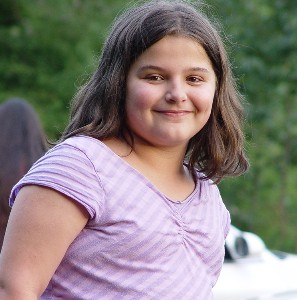 Rockpup.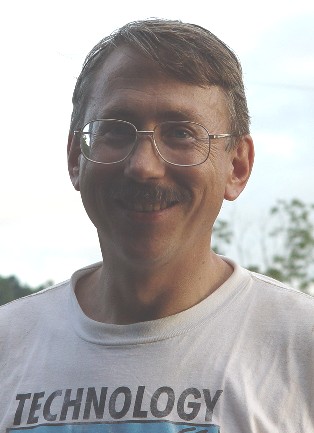 Casey from Athens Ga.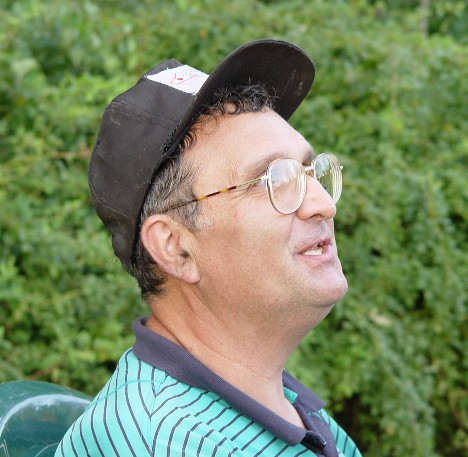 Bruce from Franklin.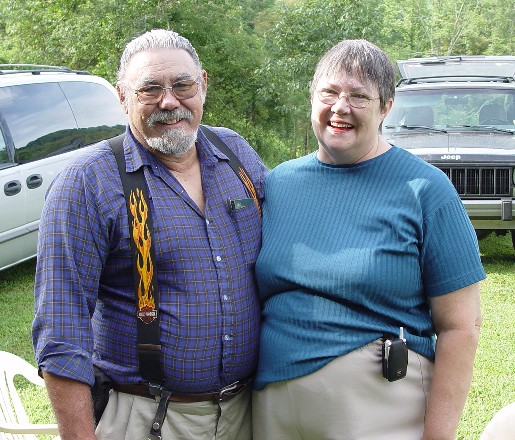 Lewis and Jan from the Gaston County club.
After spending the day at the show, we returned to help with the setup and cooking. My brother in law was already cooking when I got home, chicken, pork, hotdog's and all kinds of excellent side dishes brought by others. There was plenty of food for everyone!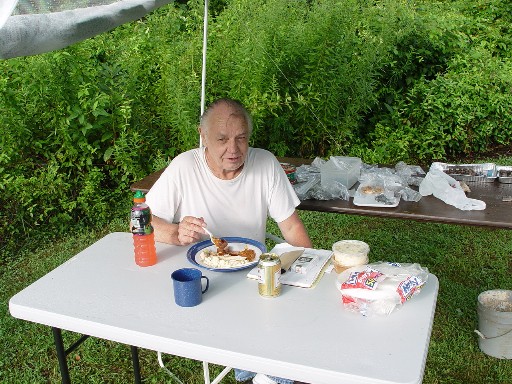 Russ Krahnert having dinner. Russ is a glass artist from Southern Pines N.C., he brought many nice glass pieces and rocks to trade.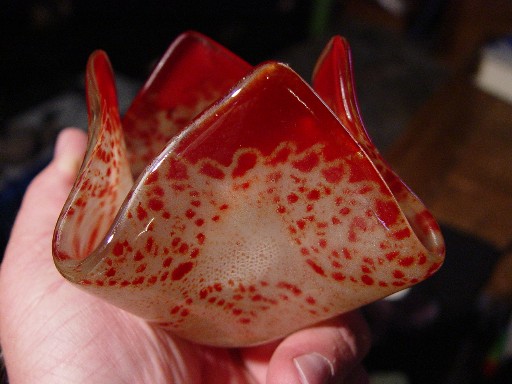 Russ gave me this beautiful Tea Lantern that he made.
Saturday afternoon people continued to pour in for the evenings events and dinner. Rodney Leftwitch and wife stopped by and id some of Ken Kytes specimens for me. Grant Kidd brought some of his huge beryl and tourmaline specimens to show everyone!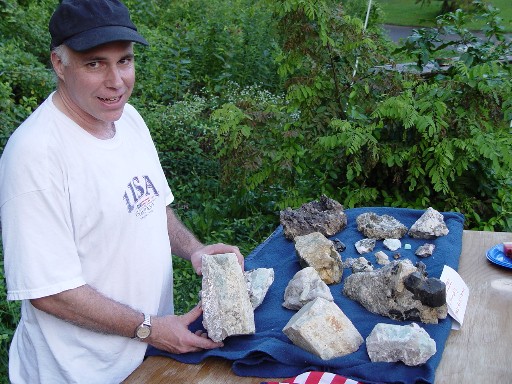 Dinnertime fun!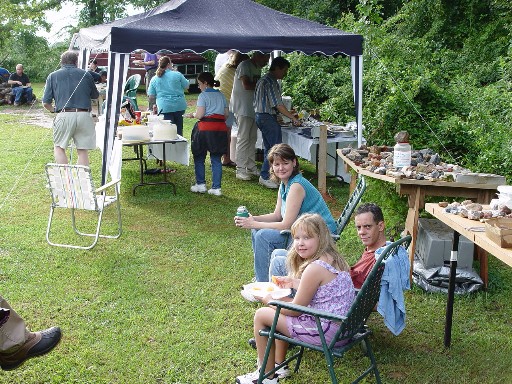 Danielle, Mickey, and Jackie.
Darrell from Knoxville and Chris Stearn.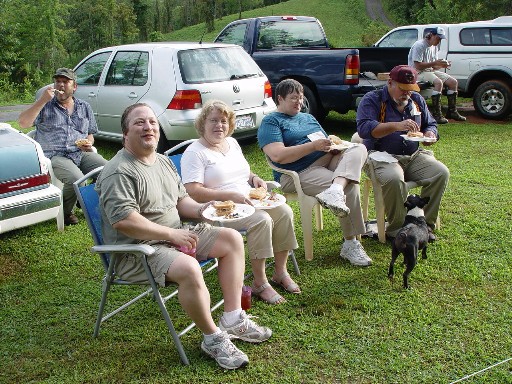 Steve Penley, Doug and Beth Dover, Jan and Lewis.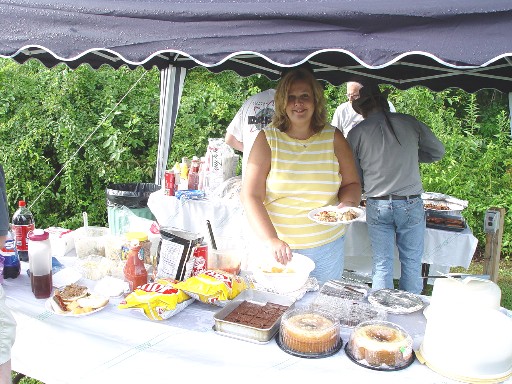 Denise.
Tena.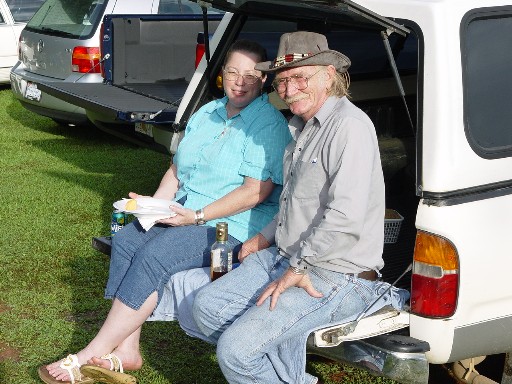 Robert and Linda.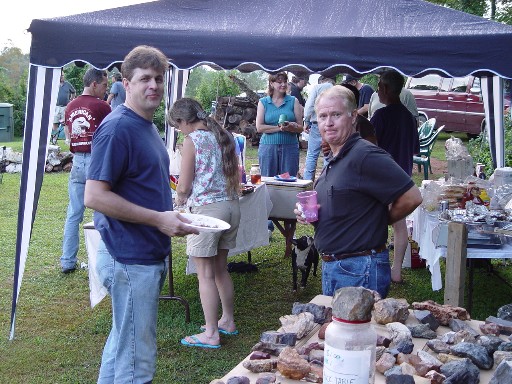 Dave and Jerry having a bite to eat.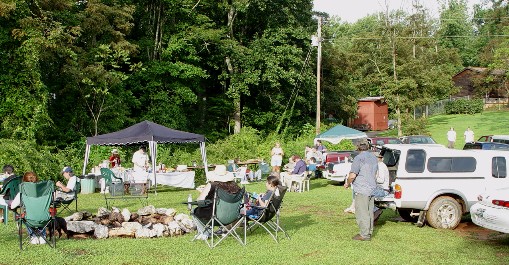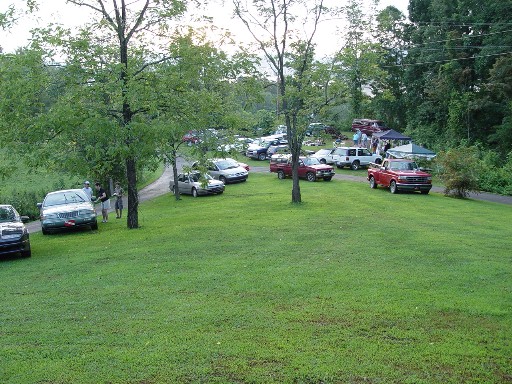 We had plenty of room for everyone to camp and park. We had over fifty people and had room enough for at least a hundred, so next year the event will be held here again, free camping for everyone.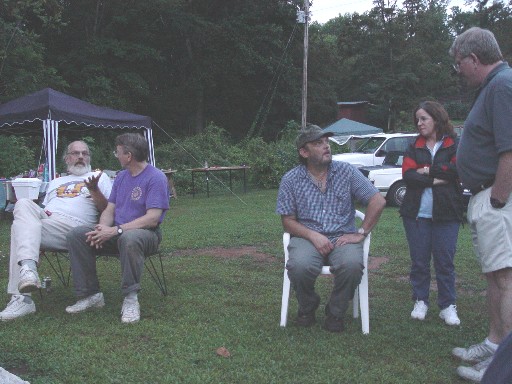 Jim, Casey, Steve, Milda and David Hillhouse.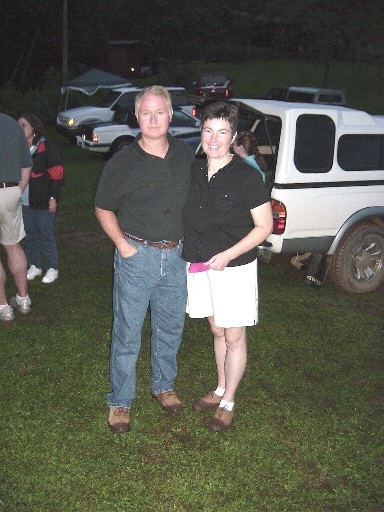 Jerry and Tena.
After dinner we continued to show and trade rocks until it was starting to get dark, then it was time for a campfire.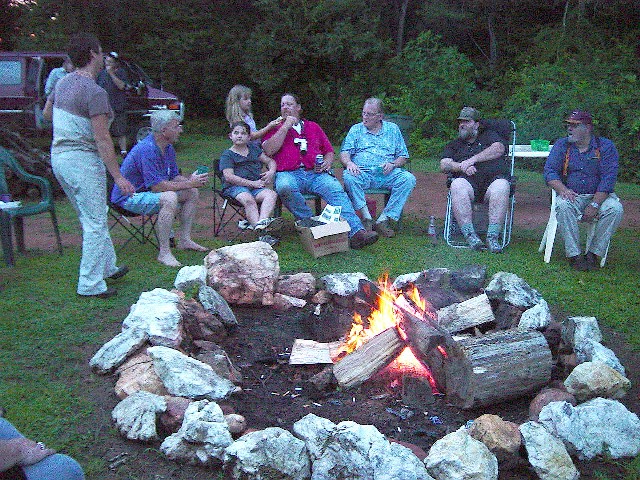 Brenda McCannon, George McCannon, Rockpup, Danielle, Rick, Dick, Wolfy, Lewis.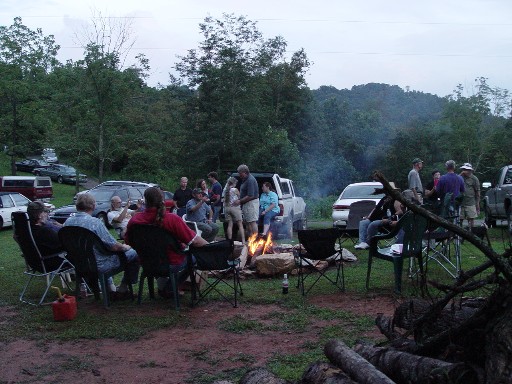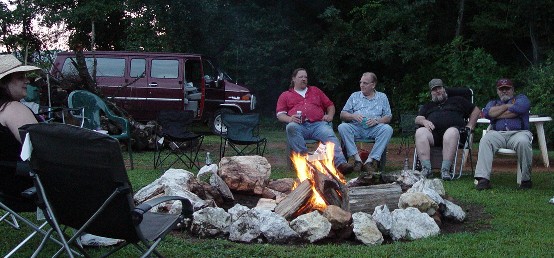 At midnight we called it an evening and went to bed to rest up for the next days events. We had been invited by George to come see him remove some of the large pegmatite material at his mine (The Old Pressley Sapphire Mine) and for a day of sapphire hunting. We arrived at the mine around 10:oo and watched as he and John began work.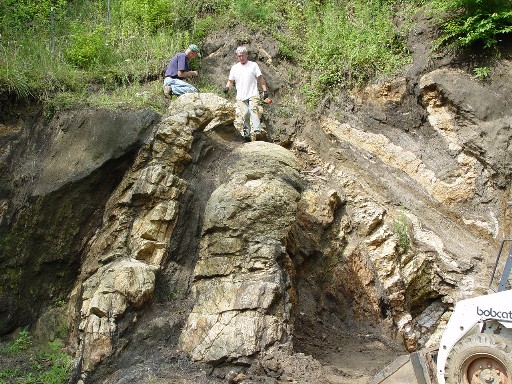 George and John look for the best place to begin.
Ready to move a big rock.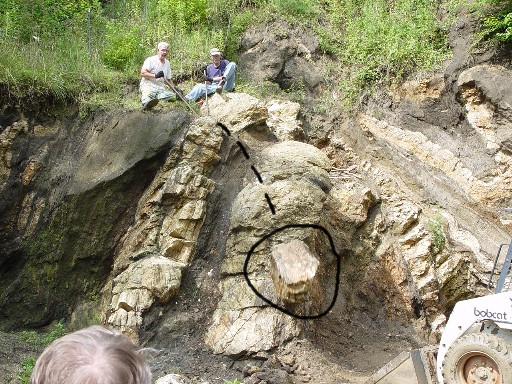 The first piece of pegmatite to come down.
This 20 lb. specimen of large mica books was recovered from the material removed.
George let everyone spend the day collecting in the dumps. I found this corundum piece laying in the road where it had been washed off by the rain.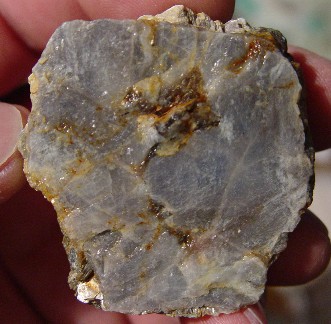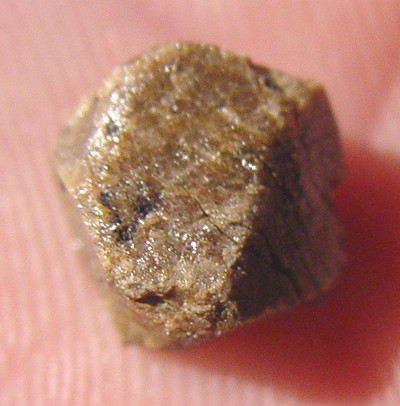 Zircon from the road.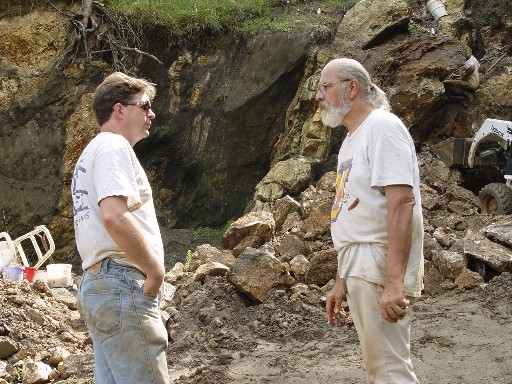 Dave and Jim talking rocks!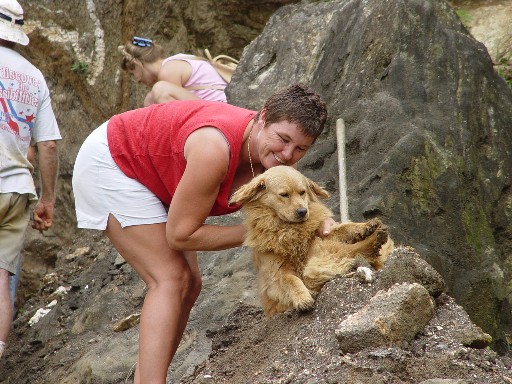 Brenda brought Ginger up to watch the work.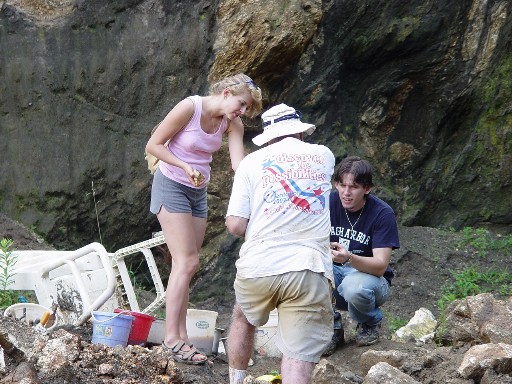 New MAGMA members Carl and Katerina.
Below are a few pics of some of the material I traded for and was given during the roundup.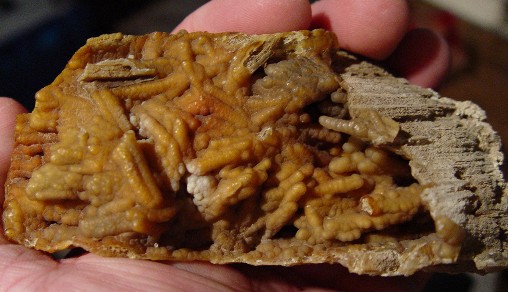 Georgia coral traded from Bruce.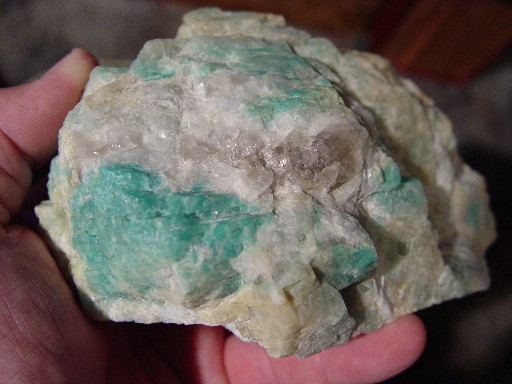 Lee and Scott Fleming gave me this jar of homemade jam and this nice specimen of amazonite in matrix from the Moorefield Mine in Virginia among other nice pieces , thanks guys!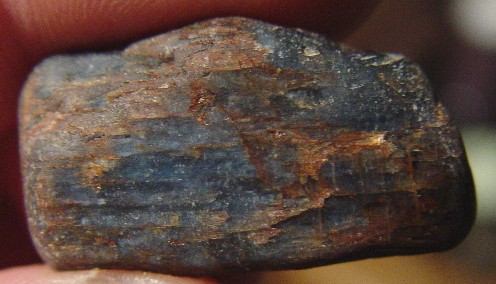 Deep blue kyanite I traded for from Georgia that our club will soon be collecting.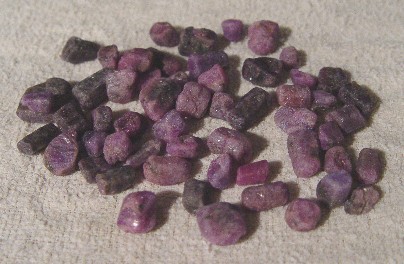 Bruce had a few jars of 40 year old sapphires from the Mason Mine in Franklin, I had to have some of those!

The roundup was a huge success and it will continue as an annual event put on by our club. We all made many new friends and added many new members to our club. I only wish it could have lasted longer. Below is a group pic from Saturday night. We waited to long to take the pic, so some of the members and attendees are not in the pic, sorry!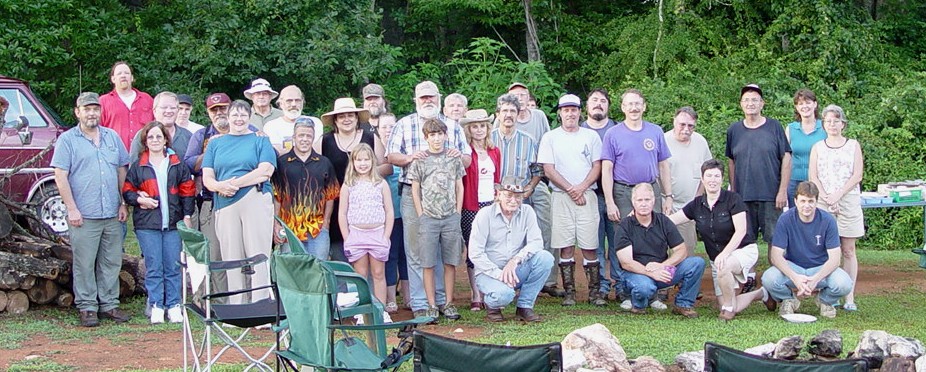 From left to right: Steve Penley, Rick Jacquot, Milda Hillhouse, Dave Hillhouse, Grant Kidd, Louis, Jan, ?, Jim, Scott, Maitri, Danielle, Wolfy, Linda Creason, Lee Fleming, Scott Fleming, George McCannon, Chris, Robert Creason, Mark Stearn, John, Brenda McCannon, Brian Taylor, David, Casey, Jerry Fortenberry, Darrell, Tena, Bruce, Jackie Popp, Dave Ladendorf, Laura Ladendorf. Not in pic: RJ, Travis Ellis, Katie J., Dick J., John Deney, Chris Moss, Rodney Leftwitch, Rockpup, Mickey Popp, Russ Krahnert, Denise Nichols, Doug and Beth Dover, The Smith Family, our two Hawaii collectors, if I missed your name let me know and I will add it to the list.
See you next year !!!