Field Trip Report: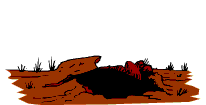 Six S's Farm
Oglethorpe County, Georgia
June, 23rd-25th, 2010
Official Field Trip of the
Mountain Area Gem and Mineral Association
photos by Richard Jacquot
It was a hot dig in Georgia, but it was well worth it for those who braved the heat to hunt the new Six S's Farm for crystals. Many, many members went home happy with large quartz and amethyst crystals and some very nice facet grade material.
This young man found one of the first big crystals. It was found in the dumps created when I had the machine operator dig a large horseshoe trench at the top of the mine area. This is the area near where the owner first saw signs of amethyst years ago. Junior and I thought it would be a good spot to dig. At the time we didn't see anything promising and abandoned digging that spot, next time we will give it a closer look!
Close up of above crystal.
Above; various crystals found by the diggers.
Small piece of facet grade material.
There were several pieces of this semi-skeletal material found.
Nice crystal with facet areas.

Back to field trip menu